The project H2020 entitled 'Fostering high scientific quality in protein research in Eastern Slovakia' – 'CasProt' from the European Framework Program of the EU for Research and Innovation within the framework of the "Twinning" call is designed to increase the scientific capacity and grow the research potential of P. J. Šafárik University in Košice in the field of protein sciences. UPJŠ in Košice as the main coordinator of the project and excellent scientific teams of partner entities of the Technical University of Munich and the University of Zurich participate in the project. The results of the research will provide an understanding of the molecular basis of the regulation of GPCR function, as well as the improvement of a rational approach to the targeted development of new drugs.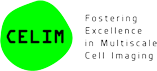 The project 7FP EU (REGPOT)  "Fostering Excellence in Multiscale Cell Imaging" (CELIM) is designed to energize the research potential of the University of P. J. Safarik in Kosice, Slovakia, by the enhancement of the existing network of collaborators with the selected excellent European Partners, centered around the theme of cell imaging, by the acquisition of a new technical infrastructure, and by the reintegration of highly experienced Slovak scientists contemporary working abroad.

Euro‐BioImaging is a large‐scale pan‐European research infrastructure project on the European Strategy Forum on Research Infrastructures (ESFRI) Roadmap. Preparatory Phase of the project lasted from Dec 2010 to May 2014 and was funded by the EC. Euro-BioImaging is now in the interim phase, with representatives of 12 countries and EMBL as international organisation working together towards the implementation of the infrastructure.