You log in to lms.upjs.sk via the button in the upper (or lower) part pages.

You will then be redirected to the AiS2 authentication server, where you fill in the login data as in AiS2 and after clicking Log in the system will automatically redirect you back to the lms.upjs.sk page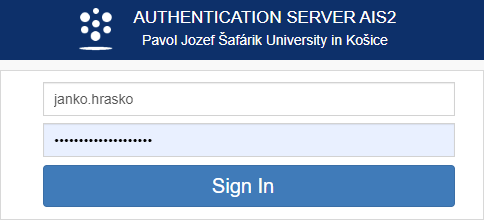 Check your inbox in the e-mail account you have registered in the AiS2 system. Sometimes it happens that the confirmation email ends up as a junk message in the SPAM folder. If you do not find a confirmation email after checking, write to lms @ upjs.sk
In this case, the error is on the part of the data registered in AiS2 (e.g. missing e-mail address as primary address, existing duplicate account in e-application). Contact AiS2 administrators for your workplace/faculty).
There is probably a problem with password expiration. Log in to AiS2 and change your password. Log in to lms.upjs.sk with new login data.
If you have problems logging in to AiS2, contact the AiS2 administrators for your workplace/faculty).
In accordance with the rules of UPJŠ (Rector's Order No. 12/2015), use for work and study purposes at UPJŠ exclusively the university e-mail address (name.surname@upjs.sk or id@student.upjs.sk). If you use a different address, we have to verify your identity, which will prolong the processing of your request.
The university has a single login system. Just log in to one application and others (which are connected to the system) no longer require logging in. computer in a shared household, dormitory), we recommend closing your browser after finishing work and logging out of lms.upjs.sk (including other portals).
The problem is a discrepancy in the registered data of student and employee e-mail addresses. Write to lms @ upjs.sk and describe your problem with connecting the original and new address. The same procedure must also be followed in the event of a change of surname and e-mail address due to a change in marital status.
The current change of username and e-mail address caused the lms.upjs.sk system to identify you as a new user. A new account has been created for you, which does not contain the original course registrations. If you are interested in connecting the original and new account, write to lms @ upjs.sk.