Dear colleagues, dear students,
we would like to invite you to the Workshop on directed evolution of proteins, which will be held as part of the CasProt project from May 2nd to 5th, 2023
in the seminary room of the Department of Biophysics and the Center for Interdisciplinary Biosciences TIP-UPJŠ at Jesenná 5.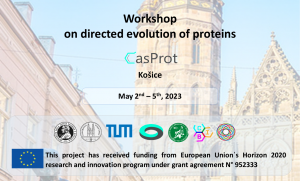 This 4-day workshop will be devoted to the current state of computational and experimental methods of protein evolution, methods of protein expression and purification, as well as information on scientific projects dealt with at our workplaces. Lectures on the mentioned topics will be presented by leading foreign as well as domestic experts in the given fields.
We believe you will not miss this opportunity to discuss current topics in the study of proteins.
We are looking forward to your participation.
Sincerely,
Erik Sedlák and organisation team