Trieda SNP 1, 040 11 Košice
The Institute of Epidemiology, located in Trieda SNP 1 in Košice, provides teaching of epidemiological subjects for students of bachelor's, master's, doctoral and doctoral studies in Slovak and English in the fields of general medicine, dentistry, nursing, public health and physiotherapy.
As part of scientific research activities, the institute's employees focus on the study of serious infectious pathogens (chlamydia, microsporidia, anaplasmosis, bartonellosis, HBV, HEV, SARS-CoV-2) in relation to human and animal diseases. With the help of molecular diagnostics using PCR and RT PCR methods, their prevalence is detected, and by genotyping individual species, their mutual transmission and the qualitative level of risk in their occurrence in risk groups of the population are monitored. Another area of research is parasitic infections with a focus on the epidemiology of parasitozoonoses.
Bachelor's theses of students of the Public Health department and diploma theses of students of the GM, DM and PH are handled at the institute as part of undergraduate teaching As part of postgraduate teaching, dissertations are solved at the workplace in the full-time form and in the external form of doctoral studies in the field of study General Medicine, study program Epidemiology
Currently, HORIZONT 2020, VEGA, APVV grants and projects from the EU:OPENMED and ACARDIO structural funds are being processed at the workplace
NEWS
Award of the Literary Fund
MUDr. Ingrid Urbančíková, PhD., MPH
Prize for scientific and professional literature for the year 2021 in the category of biological and medical sciences
The Department of Epidemiology of The Faculty of Medicine  UPJS  is a member of the accredited network of virological laboratories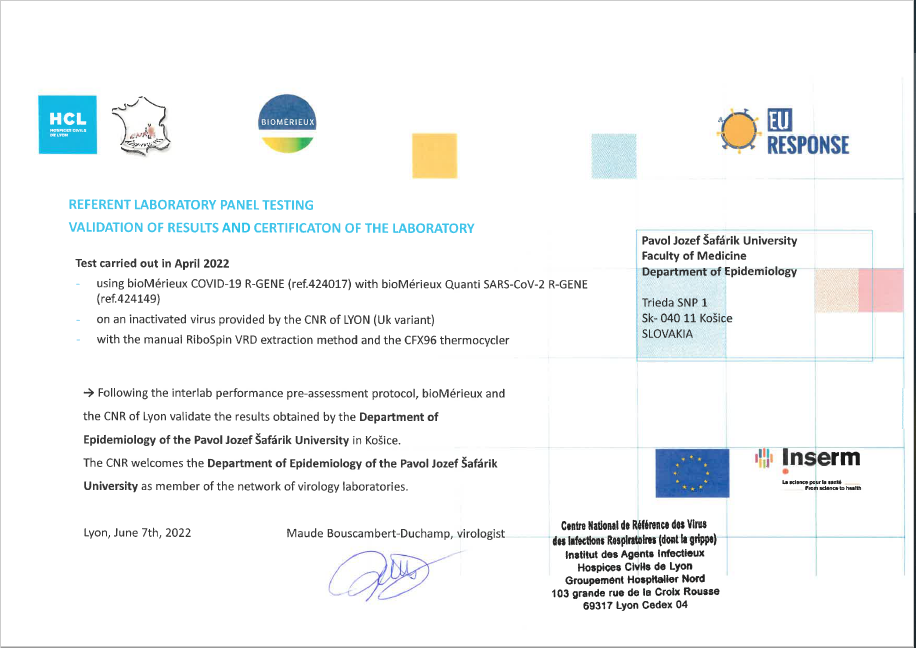 ANNOUNCEMENTS
General Medicine
Dental Medicine