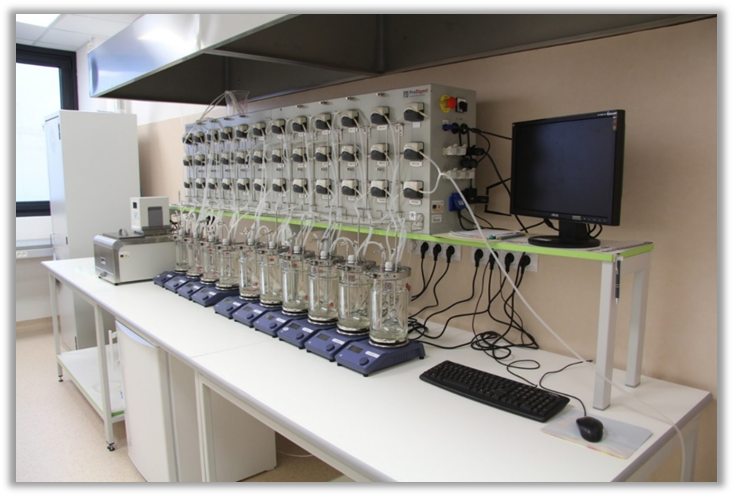 Institute of Experimental Medicine focuses on study of the role of human intestinal microflora in the pathogenesis of chronic diseases and possibilities for their prevention and therapy using targeted modulation of intestinal microflora. An important objective of the Institute is to transfer new inventions and knowledge for the development of new probiotic preparations that could be beneficial in prevention and treatment of chronic diseases.
The Institute is also involved in teaching activities within the Faculty of Medicine and ensures the transfer of knowledge acquired through various research activities into the teaching process and for professional public.
Institute of Experimental Medicine is the founding member of the non-profit organisation Cassovia Life Sciences which associates research institutes and industrial institutions, particularly in Central Europe. CLS integrates their research potential for participation in international projects, especially under EU programme Horizon 2020.

Partners
The Institute has established cooperation with several domestic and foreign partners:
Universities and research centers
Industrial and other partners
Notable awards
2015
Alojz Bomba, DVM. DrSc. and Ladislav Strojný, DVM. PhD. – Prize for technology transfer in Slovakia, 2015 in the category "Innovation with the greatest potential for application in practice"
2013
Alojz Bomba, DVM. DrSc. – Price of the Mayor of Košice, Slovakia (7th of May 2013)
Jana Štofilová, RNDr.  – 2nd place in category PhD. Students' Work – Theoretical Part, 5th International Student Medical Congress Košice, Slovakia
2012
Alojz Bomba, DVM. DrSc. – Awarded the honorary title "Honoured Professor". Ukrainian Academy of Medical Sciences in Kharkov, Metchnikoff Department of Microbiology and Immunology (27th of September 2012).
Viktória Szabadosová, RNDr.  – 2nd place in category PhD. Students' Work – Theoretical Part, 4th International Student Medical Congress Košice, Slovakia
2003
Alojz Bomba, DVM. DrSc. – Diploma for the Development of Science in the field of Veterinary Medicine. Slovak Academy of agricultural sciences
Documents for download
Brochure – Institute of Experimental Medicine
Institute of Experimental Medicine – Partner profile
Announcements